B.P.R.D. Hell on Earth: Russia # 2 of 5
Horror/Action/Adventure
Dark Horse Comics
Posted 10/22/11 5:45PM EST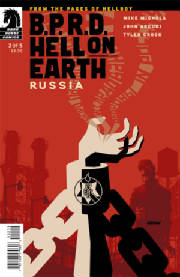 Courtesy Dark Horse Comics
Writers: Mike Mignola and John Arcudi
Artist: Tyler Crook
Colorist: Dave Stewart
Cover Artist: Dave Johnson
Released: 10/19/11
Dark Horse Comics' Official Description: "In the vault of the Russian Occult Bureau's headquarters is a man chained down and heavily monitored. When Kate and Johann are brought in for assistance, the zombie director of the Russian bureau pits them against the possessed prisoner!"
The description from Dark Horse is the issue's Cliff's Notes in a nutshell, but in this issue it is the storytelling that is the real focus. Mignola and Arcudi shine even with the action at a minimal, character driven as always, the book moves through it's 25 pages of story quickly. Mignola is always at home in his Hellboy universe and Arcudi has only adopted it as his own as well in the years he's been writing and collaboratin on various B.P.R.D. titles.
Artwork fits the story perfectly, minimalist with dark colors and heavy shadows, Crook and Stewart mesh as well as Mignola and Arcudi combining everything to present a story that is just as good as this reviewer remembers from 2006 when I drifted away from comics for a few years.
Doctor Kate Corrigan and Johann Krauss are characterized perfectly showing the personal evolution and pain the two characters have endured over the last few B.P.R.D. series. The familiarity and utter fish out of water moments Johann experiences as he is shown the Russian agency's compound, and Kate dealing with agents under the Russian Director Iosif that, in the director's own words, think they are still fighting the cold war play out well and show Johann and Kate as very human. There is hope and trepidation in both characters, which is understandable considering after recent events (in this spoiler light review we'll keep the it to this), the world is in bad shape. Even with conversation between characters being primary focus in this issue, it still moves through it's 25 pages of story quickly and as always with Mignola and Arcudi leaves you wishing the next issue were here already.
As stated, the storytelling is masterfully done and art fits it in pitch perfect tone and effect, however this is not a jumping on point for new fans. As a hardcore fan of Mignola's Hellboy 'verse, even with the helpful recap at the front of the issue, I was a bit lost on the bigger picture of what's going on with not having read Hellboy or B.P.R.D. since the Hellboy: Darkness Calls and B.P.R.D.: The Black Flame mini-series from a few years ago. Definitely recommended reading for fans that have following the last few series, but noobs need to grab some Hellboy and B.P.R.D. trades before tackling this series; the Hellboy universe is too deep and in places nuanced for casual readers.
B.P.R.D. Hell on Earth: Russia # 2 of 5 gets a solid 4 out of 5.
- Michael Meade


Usagi Yojombo #141 (200th issue)
Action/Adventure
Dark Horse Comics
Posted 11/3/11 2:30AM EST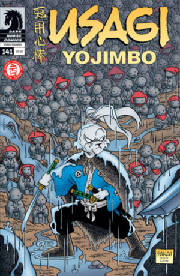 Artist: Stan Sakai - Courtesy Dark Horse Comics
Writer & Artist: Stan Sakai
Release Date: 10/27/11
Dark Horse Comics' Official Description: "Dark Horse's Usagi Yojimbo #141 marks the two hundredth overall issue of master storyteller Stan Sakai's beloved series, and the rabbit ronin celebrates with a special story, "200 Buddhas"!

With a ruthless gang terrorizing his small town, a humble stonecutter receives a vision and sets out to carve two hundred stone figures. Just as he has finished the 199th, a long-eared stranger comes to his door seeking shelter from the rain!"
A perennial favorite, this issue marks the 200 issue landmark for Usagi Yojimbo. Self-contained and a good jumping on point for new readers of the wandering anthropomorphic rabbit samurai, the story contained within is perfectly told by creator Sakai. It showcases Sakai's story telling and artistic abilities wonderfully, hooking new readers and giving long time fans another standout issue; as a sort of combination of the two, being a fan of the character for many years but never truly following the series devoutly, this reviewer can speak from both points of view.
Sakai's art is bright but also emotes the darker side a samurai tale should have when there is honorable battle to be waged in defense of the downtrodden and defenseless against dishonorable and dispicable villains. Also in Sakai's storytelling is the ability to make readers care about characters that in all likelihood will never cross the protagonist's path again after he has moved on with his journey. Another merit is how Sakai, as artist and writer, drives both equally without losing any quality in either.
Action sequences lose nothing in excitement for the lack of blood expected of samurai and ninja centered stories since the splatterfest of the Kill Bill films. Fight scenes are visceral, don't let the fact that Miyamoto Usagi is an anthropomorphic rabbit kid you if you're unfamiliar with the title, Usagi stands on level ground with any samurai hero you can think of when it comes to amazing fight scenes and sword duals.
For more on this title check out
www.darkhorse.com.


- Michael Meade


Mass Effect: Invasion #2 of 4
Sci-Fi
Dark Horse Comics
Posted 11/16/11 11:05PM EST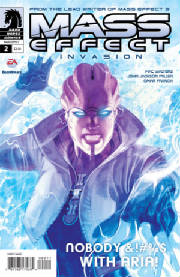 Massimo Carnevale Cover - Courtesy Dark Horse Comics
Writers: Mac Walters & John Jackson Wilson
Artist: Omar Francia
Colorist: Michael Atiyeh
Cover Artist: Massimo Carnevale
Variant Cover Artist: Paul Renaud
Release Date: 11/16/11
Dark Horse Comics' Official Description: "Space station Omega is under attack by bizarre creatures from the center of the galaxy! Aria T'Loak, pirate queen of Omega, leads the charge against the grotesque invaders, but when the true threat behind them is revealed, Aria is forced to regroup and form a new strategy--or risk losing everything!
* An essential lead-in to
Mass Effect 3
!
* Preview
Mass Effect 3
at
http://MassEffect.com
!"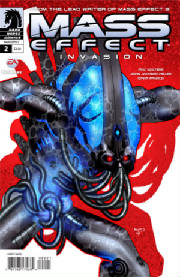 Paul Renaud Variant Cover - Courtesy Dark Horse Comics
The story in
Mass Effect: Invasion
is fast paced and action oriented in it's sci-fi goodness, though a familiarity with the video game series is recommended by this reviewer. The story is both readable and enjoyable without that knowledge, as this writer is not beyond name recognition of the game franchise and a stray review of
Mass Effect 2
I happened to catch on G4's X-Play. Artwork is captivating and as engrossing as the storyline. The mini-series, which is acting as story-bridge to
Mass Effect 3
, has the space epic genre nailed down; including all the hot points of space stories adapted from the likes of
Star Wars
,
Halo
, and even some areas popularized in the last decade by Joss Whedon's
Firefly
series. Corrupt governments, government watchdogs, alien races, genetic experimentation, human xenophobes, sweeping starship battles, space pirates, mercenaries, double crosses... all the good stuff can be found in the
Mass Effect
universe.
Again, at points as a reader if you haven't played the
Mass Effect
games you may feel a little lost on some the background points and political affiliations mentioned, but by no means will this ruin the storyline of the mini-series for you. Definitely a title to check out for hardcore
Mass Effect
fans and for space sci-fi readers looking for a new universe to play in.
For more on this title check out
www.darkhorse.com
- Michael Meade

Star Wars: Knight Errant - Deluge #4
Star Wars
Dark Horse Comics
Posted 11/26/11 3:45PM EST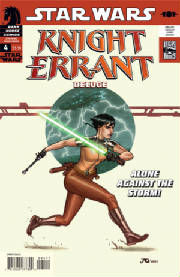 Cover Artist: Joe Quinones- Courtesy Dark Horse Comics
Writer: John Jackson Miller
Penciller: Iban Coello
Inker: Sergio Abad
Colorist: Michael Atiyeh
Cover Artist: Joe Quinones
Release Date: 11/16/11
Official Dark Horse Comics Description: "Kerra Holt has her Jedi work cut out for her! As crime lord Zodah the Hutt's massive Stormbringer vessels flood Kerra's homeworld with rain, she does her utmost to herd the listless inhabitants to the safety of higher ground. Meanwhile, Sith Lord Daiman doesn't appreciate Zodah destroying a world that belongs to him! Soon, Kerra will have two armies to fight!"
Story, art, action, and humor blend in beautiful Star Wars fashion in this latest chapter of the Knight Errant saga (for those unfamiliar with the expanded universe settings, this story takes place about a thousand years before the storyline in the movies), fan favorite Kerra Holt shines in characterization; and Coello's pencils with Abad's and Atiyeh's respective ink and color don't hurt either.
For anyone that hasn't explored much of the Old Republic stories in the Star Wars universe, the Knight Errant series with Jedi Kerra Holt are a fun place to start! And Deluge in particular, if for no other reason than seeing one of Jabba the Hutt's ancestors. And his plausible yet somewhat funny in it's old school villain dastardliness in one aspect, while scary and reflective of events happening in the real world right now in the other is woven into the story brilliantly!
Another Star Wars hallmark of making "side" characters interesting and fully capable of holding their own spotlight, in Deluge we are treated to Captain Jenn Devaad; a pirate/mercenary who cares little for anyone not flying under her banner. Devaad doesn't take the spotlight off the character of Kerra but could with little effort, very much Devaad is to Holt as Solo is to Skywalker barring the deep comradery (at this point at least).
Star Wars: Knight Errant - Deluge #4 gets a Force-filled 4 out of 5.
- Michael Meade