Permanent Ability - L.A. Funk Rockstars
Interviewed by Michael Meade
TLR! recently had the great fortune to interview Los Angeles based funk/rock outfit Permanent Ability, get ready to hear their name everywhere else, but enjoy them here first...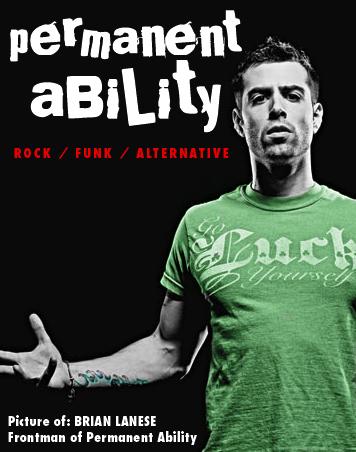 TLR!: First off guys, introduce yourselves to our readers, since you're a West Coast band and TLR! is an East Coast publication.

Brian: We are an award winning, original, funk/rock/alternative band called Permanent Ability. Our home base is in Los Angeles, but three of us are East Coast natives. I'm Brian Lanese originally from CT, and the founder / vocalist of Permanent Ability.

Gary: I'm Gary Rinaldi, I'm from NJ, and the drummer of Permanent Ability.

Dino: I'm the NEWEST addition to the band, my name is Steve Andino a.k.a "Dino," I play bass and I'm from NY.

Nick: And I'm Nick Gordon, lead guitarist, and lone member of the great city of angels.

TLR!: With intros out of the way, it's time for the origin story, how did Permanent Ability come together?

Brian: Permanent Ability was founded back in 2006 when I moved to California. I had a bunch of music I believed in, and wanted to take it to LA to give birth to it. The majority of the music is written and composed by myself using various musical loops on my computer. This band however, is a TEAM effort we all have our input when defining the songs when bringing them to life. The loops create the composition along with arrangements for us to reference. From there we all have input and develop the song until we are content. In regards to finding band members, I used recommendations from friends, and online networking sites to find players who really believed in the material as much as I did, and from there the band started to assemble. And members who wanted to pursue in a music career followed. LA has a melting pot of talent, but there are tons of posers and wannabes, and is saturated with a lot of shitty players, so it's difficult at times to see what's what, making it a BIG filtering out process for us. A band is a business and a partnership, and its hard work to achieve success...not fun all and games all the time. We treat our band like a business and have fun doing it, and fortunately I lucked out, surrounded myself with some real great players who are ambitious guys, and have become great friends. Even though members came and went, the life of Permanent Ability continues to persevere, and now we are all in a comfortable situation with key members and talented players in place that define the band.

TLR!: What would each of you say was the band's greatest accomplishment over the summer of '09?

Nick: I gotta say our summer tour. We did 7 shows in 10 days kicking off in Columbus, OH on July 3rd. From there we hit up Cincy, Pitt, New York City, Brian's home town Waterbury, CT,back to Ohio to play a show in Gahanna to then finishing up at the House of Blues here in Los Angeles.

Gary: It was a lot of fun, and we received tons of exposure! Every place we played had a great response. Giving us another accomplishment to add to our resume in such a short time.

Brian: It also made us all tighter as people, and musicians.

TLR!: Best gig?

Brian: Mine was my home coming in CT, we filled the venue to capacity and the fire marshall stopped letting people in. I was a bit nervous, but once we settled we tore shit up!

Gary: New York City was another favorite too. Reason being it was the moment of truth for us.

Brian: You don't get a more brutal punch of bluntness then you do in "The City," so we knew if NY liked us, then we'd really know if we are doing something special. Fortunately enough...the response was overwhelming! Great show!!!

TLR!: Favorite LA venue?

Nick: I think I can speak for everyone on this one...hands down its gotta be The Roxy Theatre, and the Viper Room. Both have excellent sound, and stages are big enough to handle four people jumping around like maniacs.

Brian: Yeah we've played on stages so tiny we are bumping into one another or I'm stepping on Nick's guitar pedals. It's like putting a rhino in a dogs cage at times, so the bigger the stage...the better the venue!

TLR!: Speaking of venues, earlier this year you toured the US, how did the venues outside Los Angeles stand up against LA mainstays like the Whisky A Go Go and Viper Room?

Gary: Based on professionalism alone outside of LA, I think New York City claimed first place. With technology now-a-days, the sound systems are arguably comparable. But what blows is when you get that jerk off sound engineer who's texting his girlfriend, and not giving a fuck about his apparent hobby job.

Nick: In comparison to the history of the Whisky or Viper there is none.

TLR!: Any good tour disaster stories to share?

Brian: Man we wish could say yes, but we were pretty fortunate. Although, I can share a funny story. When we were in New York City, I was visiting some friends in Brooklyn, and I get on the subway to head back into the city, and some bum is dropping a hot one right on the subway car seat as I'm walking on....with no shame might I add. I was sucker punched with the stench, and a bit of shock and awe too.

TLR!: Now Brian, what would you consider the hardest part of the song writing process for you? And your favorite part?

Brian: When I write a song, I want the listener to be haunted by my lyrical hook, which sometimes can be challenging to find, particularly the right words to identify with the listener. My lyrics are influenced pretty much by my life experiences and philosophies ranging diversely in its sometimes explicit content. I try not to limit myself though. My favorite part is setting a vivid lyrical stage for the listener to implement his own character(s) into, keeping it universal so the listener can relate it to his or her own experiences. The most rewarding part about being the lyricist/songwriter is when a fan can come up to you after a show, and say I like this song it goes like, or that song means so much to me. If that didn't happen then I'm not doing my job as a lyricist, or a vocalist for that matter in its delivery. But writing was always a natural form of expression for me, and I must admit it runs in the family. I'm actually related to two famous writers. One is the great writer Mark Twain (Samuel Clemens) and the other is Harriet Beecher Stowe. And to be completely honest, I don't even think I've ever read any of their literature, which I should do. Anyway, I still gather inspiration from old journals I kept since college that sometimes instantly time warps me back to that period in my life, and flood me with tons of old emotions and immediate inspiration.

TLR!: Gary, how long have you been drumming? And what brought you to the drums, just general attraction to the instrument or a specific drummer's work?

Gary: I've been drumming seriously for a little over 15 years. I started off in grade school with just a practice pad while playing with the school concert band. When I was around 13yrs old I got hooked on Rock music and my parents first got me a snare drum for Christmas and then a drumset followed. I would play along to all type of old rock albums like Led Zeppelin and even stuff like Phil Collins and Cream. Zeppelin was a big favorite of mine, but it was bands like Metallica, Rush, and Iron Maiden that really got me obsessed with drumming, and studying what the drummers of those bands were doing. I started jamming with other kids in high school, doing shows like local Battle of the Bands. I then decided to pursue my music studies in college, and I got into all sorts of stuff by then such as: funk, jazz, fusion, classical... really trying to absorb as many styles as I could to be diverse. This led to touring with musical theater shows a few years later, and then finally making the big move to LA to try and make the big time.

TLR!: And Nick, who would you consider the largest influence on getting you into guitar? And on your playing style?

Nick: The largest influence on getting me into guitar would have to be my Dad. He used to play, and a guitar was always around our house early on. Hendrix and the Beatles really made an impression on me, and really made me want to learn to play. As for my playing style, my influences are Jeff Beck, SRV, Mark Knophler, Eric Clapton, David Gilmour, and many others. No one under 50 though, and mostly Fender players.

TLR!: For each of you, what band or solo artist popped your cherry?

Brian: This is gonna sound awful with the context of the question, but I have to say Michael Jackson... [laughs] If it wasn't for watching him growing up, I would never have discovered the passion to even want to perform. Then I found the Chili Peppers... and need I say more.

Gary: Zeppelin and Rush.

Nick: Jeff Beck and Clapton.

Dino: Victor Wooten, Flea, the Beatles, and Sly & the Family Stone.

TLR!: Be honest, sold out stadium show with people that enjoy but don't really "get" your songs or a room with ten people that do?

Brian: Stadiums. Reason being...if they don't get our songs, they at the very least get a kick ass, in your face live show! Which is what we are getting known for, but we're confident our songs are pretty easy to get.

TLR!: Alright those of you in relationships can skip this one if you wish... groupies or fans? Which could be taken to be the same question I just asked, but anybody in a band knows what I'm saying...

Gary: I think both can make a fair share of trouble.

Brian: I remember once this crazy fan told us that her car got stolen in Hollywood 'cause our CD was on her front passenger seat.

Gary: She actually tried to put the blame on us too.

Nick: Do you know how many black bras get thrown onstage during our song "Little Black Bra"? Which for a while there Brian had hanging from his red mic stand to honor all the lustful appreciation.

Brian: You'd think being in L.A. I'd have triple F cups hanging on there, but surprisingly they ranged from A's to C's.

Gary: It's nice to know we have a "handful" of available groupies.

TLR!: Brian, Nick, and Gary, the three of you have found a NEW bass player to add to Permanent Ability's lineup, how was the search for him?

Nick: We had an overwhelming response once we put the word out here in LA that we were looking. Funk bassists are a rare breed, especially talented ones, but we narrowed it down, and found our guy after a long month of auditions.

TLR!: Dino, how about a history lesson?

Dino: I am the former bass player for the band Tourniquet. They were signed to Metal Blade records under Warner Bros. I left the band two years ago after an eight year tenure. Since then, I've been waiting for a band like Permanent Ability to come along. Funk has always been a musical passion of mine. I was so nervous when I first auditioned that I felt I didn't put my best foot forward to impress them, and when i was driving home after the first audition I was so disappointed 'cause I really wanted to position. Fortunately enough, they saw something in me and asked me back for a second audition.

Gary: He came in and KILLED IT!

Brian: He is a very seasoned, diverse, and technical player compared to our previous bassist. Dino has a tight polished sound with impeccable control.

Gary: And we locked as tight as a chastity belt right off the bat that it was a no brainer not to hire him. Funk is all about the groove, and locking is the most important part of our music.

Nick: Plus he brings tons of experience to the table, as well as, other resources to the band which was lacking prior that we can now tap into.

TLR!: In closing, what's coming down the pipe in the New Year for Permanent Ability?

Nick: We are hoping to release our debut album next year sometime.

Brian: No specific date set or title yet, but we are currently in negotiations with two major producers that we are sure you have heard of, and probably own their albums as well.

Dino: We guarantee BIG things are coming…so stay tuned!!!

Gary: And in the meantime, you can download our current EP From the Womb to Hollywood off iTunes, and other major retail distributors, and visit us online by going to: www.myspace.com/permanentability.

TLR!: Thanks guys, it's been great talking to you!

Permanent Ability: Thanks for the opportunity Mike.