Articles in chronological order of publishing top to bottom
The Future of Music Born From A Past That Never Was
By Michael Meade
The quickly growing subculture of Steampunk began breaking into the mainstream in 2008, with an article in the New York Times and a mention during an MTV News segment.
Steampunk began as a subgenre of fantasy and speculative sci-fi that came about in the 1980s, and grew into prominence in the '90s. Owing it roots to the writings of H.G. Wells, Jules Verne, Mary Shelley, Robert Louis Stevenson, and even Mark Twain.
The term steampunk seems to have been originated by author K.W. Jeter (Morlock Nights and Infernal Device) in the '80s as a tongue-in-cheek variant of cyberpunk, to categorize his works and the writings of Tim Powers (The Anubis Gates) and James Blaylock (Homunculus). Other mainstream examples of steampunk fiction include The League of Extraordinary Gentlemen (both the comic series by Alan Moore and Kevin O'Neill and the movie loosely based on it), Wild Wild West (the original TV series from the 1960s and the '90s movie remake), and Katsuhiro Otomo's epic anime Steamboy.
Steampunk music is still raw and defies any set boundaries, much as the rest of the burgeoning lifestyle, unfortunately though steampunk music has taken a backseat in mainstream media coverage.
Mainstream media has instead focused mainly on steampunk fashion and style and it's models like Kato, as well as the inventors and contraptionists; like the great Jake Von Slatt.

Style, tone, and lyrical content range in steampunk music greatly. Seattle based Abney Park has a goth-techno-rock sound which suits their steampunk personas as a band of airship pirates perfectly.
While Dr. Steel, the mad toy maker with world domination his true agenda, has a Hip-Hop feel to some of his tracks.
Vernian Process sports a more industrial sound, VP also has an impressive list of covers they've added their own steamwave style to on top of their long list of originals. And The Unextraordinary Gentlemen have a gothic vaudevillianism to their works.

HUMANWINE is often considered steampunk, but "steamrevolutionaries" would be a better fit to their often politically and socially charged lyrics. Comparison cannot be made with HUMANWINE's sound as each song is different and unique.
Well known bands Rasputina and The Dresden Dolls also have a steampunk style and feel to some of their stage costumes and songs. While both groups have steampunk elements neither is strictly SP, then again the boundaries and requirements of both the lifestyle and the music are still greatly, and fervently, debated by fans and actual steampunks alike.
For the most part, steampunk style combines industrial and Victorian-era dress with gadgets right out of a Saturday Matinee serial from the 1940s. While steampunk ideology is not as dystopian as cyberpunk, it does indeed share the anti-authority sentiment found amongst all punk genres and lifestyles. As the genre and lifestyle have developed, both have adopted the more utopian aspects of Victorian-era sensibilities.
Steampunk is building to be the next alternative lifestyle to break out and become as normal to see out in a club as goth, punk, and emo kids. This journalist, for one, welcomes it! The world needs more aeronauts, mad and not-so-mad scientists, and of course airship pirates.
Let fly the zeppelins and dirigibles, stoke the fires and launch fullsteam into this brave new world!
Abney Park is Robert Brown - vocals, songs, darbuka, and diatonic button accordion, Finn Von Claret - vocals and "writhing", Kristina Erickson - keyboards and vocals, Nathaniel Johnstone - clockwork guitar, violin, and mandolin; and Daniel C. - flintlock bass. Check Abney Park out at www.myspace.com/abneypark and abneypark.com
Dr. Steel can be found at www.myspace.com/drsteel and drsteel.com
Vernian Process is Joshua A. Pfeiffer - strings, percussion, effects, various instruments and vocals; Martin Irigoyen - guitar, theremin, arrangements, production, and mastering; Catyanna Roman - manager and promotions.
VP's guest musicians have included Malcom Schreek- vocals on The Alchermist's Vision and Crime of The Century, Pasha Smith - vocals on Sonnet de l'Absinthe, and Ichabod Strange - lyrics for I am the Sea and Her Clockwork Heart.
Vernian Process can be found at movementproductions.net/vernianprocess.html
and www.myspace.com/vernianprocess
The Unextraordinary Gentlemen are Malcom Schreek - vocals and lyrics, Professor Richard Mangrove - bass guitar, keyboard, and programming; J. Frances Pomerantz - violin, and The Indifference Machine - drum machine/sequencer.
Check them out at unextraordinarygentlemen.com and www.myspace.com/unextraordinarygentlemen

HUMANWINE is Holly Brewer and M@ McNiss, both compose and write all of HUMANWINE's material, and Brewer is the lead vocalist. Brewer and McNiss put together a new line up of musicians and instruments each show they perform, hoping to keep their songs new and always have them "shine differently".

Find them at HUMANWINE.org and www.myspace.com/humanwine
For more great steampunk bands and artists look up:
The Clockwork Dolls at www.myspace.com/theclockworkdolls
Joe Black at misterjoeblack.com and www.myspace.com/misterjoeblack
The Tiger Lillies at tigerlillies.com and www.myspace.com/tigerlilliessuk
AtOmsk at atomskmusic.com and www.myspace.com/atomskofficial
The Propeller Diaries at www.myspace.com/thepropellerdiaries
And for more on steampunk technology, creations, and life check out:
Brass Googles at www.brassgoggles.co.uk
Jake Von Slatt's Steampunk Workshop at steampunkworkshop.com
The Datamancer at www.datamancer.net
Steampunk Magazine at www.steampunkmagazine.com
The Willows Magazine at www.thewillowsmagazine.com
Dr. Gainsborough's Steam Haven at www.myspace.com/steamhaven
CBGB's - A Retrospective
By Michael Meade
Founded in December of 1973 by Hilly Kristel, CB's, as it was affectionately nicknamed, was located at 315 Bowery at Bleecker Street in New York City. CBGB's was born on the site of Kristel's previous bar, Hilly's on The Bowery, which was in opertion from 1969 to 1972.
Photograph by Michael Meade 2/1/06
CB's full name, CBGB & OMFUG, stood for "Country Bluegrass Blues and Other Music For Uplifting Gormandizers".
As the name implied, Kristel intended to feature mostly country, bluegrass, and blues musicians. "Gormandizers" usually refers to "voracious eaters", but Kristel meant it as a joke meaning "voracious eaters of... music".
Shortly before Hilly's on The Bowery became CBGB's, two New York locals, Bill Page and Rusty McKenna, managed to convince Hilly to allow them book concerts at the club. These early acts weren't labeled punk rock, or "street music" as punk was called at the time, but it has been stated by Kristel's son that he believes they helped to lay the groundwork for CBGB's to become the epicenter of the NYC punk scene.
After the Mercer Arts Center collapsed in August of 1973, there were virtually no venues in the five boroughs where unsigned bands could play their original material. Several Mercer refugees found sanctuary at CB's, including Suicide and Wayne County.
Television began their Sunday night stint at the club on March 31 1974. Kristel, and others present, have been quoted saying that Television was the first band to bring punk rock to CBGB's. Kristel's son has disputed this, laying claim that there was a punk show on stage at the time of Tom Verlaine's first visit to CB's. However, it is quite true that Television's shows were what began the flood of regular punk performances on the Bowery.
1974 was a busy year on the CBGB stage, bands appearing included The Stillettoes (with eventual Blondie frontwoman Debbie Harry on back-up vocals) supporting Television in May. August saw the arrival of The Ramones and the newly-formed Blondie under it's original moniker Angel & The Snake; quickly followed by The Misfits, Mink DeVille, Talking Heads, The Shirts, The Heartbreakers, and The Fleshtones along with many others.

The Ramones performing Blitzkrieg Bop at CB's in 1977

CBGB's stage graffiti. Photograph by Michael Meade 2/1/06

CBGB's had only one rule for bands wanting to play under it's roof: NO COVERS! Cover bands were never booked at CB's (regulars, including The Ramones, would sometimes throw a few cover songs in their set lists though). Kristel's son has said this was to help the club avoid paying ASCAP royalties.
As the venue's reputation grew, acts from outside New York, including international musicians, began booking shows at CBGB's.
The Police, being a good example, played their first US gigs at CB's on October 20 and 21 of 1978.
The storefront next door served as the CBGB Record Canteen for several years. Then in the late eighties, the store was closed used as a second performance area and art gallery, named CB's 313 Gallery.
Stock Photograph

The gallery featured bands and artists that played acoustic and folk rock, jazz, and experimental music.
Through the eighties CBGB was a hot spot for touring bands to hit while passing through New York, but it was the hardcore punk scene that kept Kristel in business.
Sundays became matinee day, the matinee showcased a handful of hardcore bands every Sunday afternoon into the early evening. A few bands made famous by playing the hardcore matinee include Reagan Youth, Agnostic Front, Murphy's Law, Sick of It All. The Cro-Mags, and Youth of Today.
The Sunday Matinee became an institution at CB's over the years, but in 1990, the level of violence found in the hardcore scene at the time, forced Kristel to ban all booking of hardcore bands until a few years prior the legendary club's closing.
2005 brought a large dispute between CBGB and the Bowery Resident's Committee. The Committee presented Hilly Kristel with a bill for $91,000 of unpaid back rent. Kristel's claim was that he had never received notice of any increases in his original monthly rental fee of $19,000.
As Kristel's lease on the property expired, an agreement was made with the Bowery Resident's Committee to keep the club open for an additional fourteen months past the expiration of the lease.
During this time, Kristel ended his attempts to win an historic landmark status for CBGB's.
Kristel then planned on moving the club to Las Vegas, wishing to strip 315 Bowery down as far as possible. Therein bringing as much of the original club to Nevada as he could without demolishing the building. Kristel was quoted as saying, "we're going to take the urinals, I'll take whatever I can. The Movers said 'you ought to take everything and auction it off on eBay.' Why not? Somebody will."
CB's restroom. Stock Photograph
CBGB closed it's doors on October 15 2006, the last week featured multi-night engagements by Bad Brains, The Dictators, and an acoustic set by Blondie. Among the openers were Avail and Bouncing Souls.
The final show show at CB's was performed by Patti Smith, who first performed at CBGB on Valentine's Day 1975 with The Patti Smith Group, and was broadcast live on Sirius Satellite Radio.
Guests that ended up sharing the stage with Smith were Richard Lloyd, of Television, and Flea of The Red Hot Chili Peppers; who was serenaded with "Happy Birthday" at midnight by all in attendance.
As the set drew to a close, the band played "Gloria", and paid tribute to The Ramones during the chorus by alternating the lyrics of the original chorus of "Gloria" with the "Hey! Ho! Let's Go!" of "Blitzkrieg Bop".
For Smith's final encore, the song "Elegie", she read a list of musicians that had passed away since last playing CBGB's stage.
9/16/06 Stock Photograph
On August 28 2007, Hilly Kristel died from complications due to lung cancer. In early October, his family and personal friends held a private memorial at the YMCA near Greenwich Village.
Soon afterward, a public service was also held.
CBGB's after the awning was removed. Stock Photograph
Fashion designer John Varvatos announced, on Novemer 2 2007, that he would open a store in CB's space at 315 Bowery in 2008.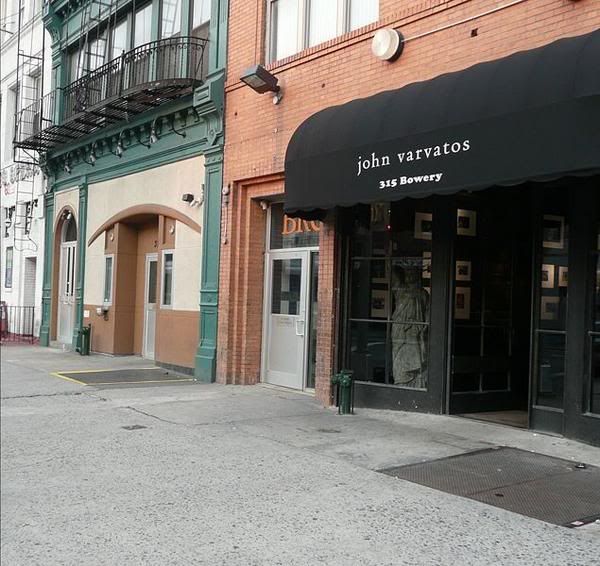 The former CBGB's. Stock Photograph
Morrison Hotel, a SoHo art gallery dedicated exclusively to music photography, announced, shortly after Varvatos, they would be opening their second location in the former CB's 313 Gallery.
Most of the graffiti in the restrooms was preserved, along with playbills, from the club's 10th Anniversary shows of 1983, that were found behind a wall. And finally announced, was the conversion of the alley behind the former CBGB, known as Extra Place, into a pedestrian mall.
And so ended all traces of CBGB, but for those in the hearts and memories of the bands that had played there, had gotten their big breaks there, and the thousands of music gormandizers that had visited to see their idols play on CB's hallowed stage.
Specter Gets 19 To Life in Prison
By Michael Meade
Legendary music producer Phil Specter was found guilty of second-degree murder for the 2003 death of actress Lana Clarkson on April 13 2009. Specter was sentenced to 19 years to life in prison by Superior Court Judge Larry Paul Fidler on May 29, 2009. The break-down of Specter's sentence is 15 years to life imprisonment for second-degree murder and four years for personal use of a gun.
Specter was also ordered to pay the Clarkson family's expenses for Lana's funeral services, as well as $9,740 to a California state victims' restitution fund among other fines.
Phil Specter during sentencing. Insert: actress Lana Clarkson. Stock Photographs
Specter gained fame for his Wall of Sound recording technique in the 1960s. Specter worked with acts such as The Ronettes, The Crystals, Darlene Love, The Righteous Brothers, John Lennon, The Teddy Bears, Ike and Tina Turner, George Harrison, Dion DiMucci, The Ramones, The Beatles (Let It Be), Leonard Cohen, Ben E. King, Gene Pitney, Bob B. Soxx & the Blue Jeans, The Wrecking Crew, and Starsailor.
Lana Clarkson was best known for starring in Roger Corman's 1985 cult favorite film Barabarian Queen. She was age 40 when she died from a gunshot wound through the mouth in Specter's home in 2003.
Specter reportedly "showed no sign of emotion" as his sentence was passed. According to his lawyer the frail and physically ailing 69-year-old is planning on appealing the verdict.
Michael Jackson - "The King of Pop" - dead at 50
By Michael Meade
Michael Jackson died earlier today (Thursday June 25 2009) of suspected cardiac arrest. Jackson was found not breathing by LAFD paramedics after responding to a call from his Los Angeles home between 12:30-1:00pm.
He was then rushed to the UCLA Medical Center after the paramedics performed CPR on the legendary singer.
Jackson was preparing for his comeback tour in London. Promoters stated in March, as he began rehearsing and other prep work, that he underwent and passed lengthy physical examinations before beginning his rehearsals.
Despite his last few years of growing paranoia, legal troubles, and scandals it cannot be denied that Michael Jackson changed the face of music greatly during his career. Breaking racial barriers, taking pop music to a new level of performance artistry, and becoming one of the most recognizable human beings in modern history. The thoughts and prayers of the TLR! staff, as well as most of the globe, are with his children and siblings.
The music industry as a whole will indeed mourn the passing of one of it's biggest icons to date, Michael Jackson August 29 1958 - June 25 2009.
Bill Hale's Metallica The Club Dayz 1982-1984
By Michael Meade
Bill Hale is one lucky guy! In the early 1980s he was assigned to photograph an up and coming metal band by the name of Metallica. He was there as they found their stride as a band, through the early problems (replacing Dave Mustaine with Kirk Hammet, and Cliff Burton's far too early death).
Metallica The Club Dayz 1982-1984 is of course a must own for Metallica fans, but should really be a part of every music enthusiast's collection. Hale has shared some truly amazing, never before seen candid photos and great anecdotes of the band that helped bring metal past metalheads to the forefront of rock. Not to mention cementing speed metal's place in North America.
Hale's humorous recollections definately form the soul of this book. The introductory stories of Metallica memories from John Strednansky (Editor and Chief of Metal Rendezvous Int. Heavy Rock - Metal Magazine), Ron Quintana, and Scott Earl (bass - Culprit) gave that much more heart to it; not that it lacked any for even a sentence.
The true heart of the book is of course Hale's photos. Backstage or down in the pit (the mosh pit, Bill worked all six shows presented without the safety of a photo pit), he captured moments of time in the lives of Mustaine, Hetfield, McGovney, Ulrich, Burton, and Hammet that countless fans would kill to have seen and experienced live.
There are many to choose from, but this writer's favorite shots are on pages 90-91; Burton, Mustaine, and a female friend sitting on a small stoop a few doors down from the Stone in San Francisco on March 19 1983. Not only for the fact that Dave would be out of the band soon and the coming tragedy of Cliff's passing, but also the emotions displayed on their faces; much the same sentiment Bill Hale says he feels about these two particular photos.
My next favorite is on page 107, Hale apologizes for the quality of the shot, but it's a rare photo of Cliff Burton and Dave Mustaine together after Mustaine was replaced on lead guitar by Kirk Hammet. It's a candid taken on August 12 1986, Megadeth opened for King Diamond at the Stone, without a trace of the Metallica/Megadeth animosity between them; this was also the last time Bill Hale saw Cliff Burton alive.
This piece, though shorter than the book deserves, turned out a review/article hybrid but Metallica The Club Dayz 1982-1984 goes beyond any score, Bill Hale truly presents a priceless collection of photographs in a little documented part of the history of perhaps the biggest band metal will ever know.

Courtesy Photography by Bill Hale

Bill Hale started photographing rock bands in 1979 at the age of eighteen. In the 1980s, Bill was the chief photographer for Metal Rendezvous International Heavy Rock-Metal Magazine.
While on staff he was able able to shoot many of the top bands of the day including Deep Purple, Black Sabbath, Riot and UFO. Bill was fortunate enough to photograph many legends before they ascended to "rock and roll heaven" - Phil Lynott, Bon Scott, Freddie Mercury and Rory Gallagher are on that list.
Metal Rendezvous gave media coverage to some of metal's biggest legends including Anthrax, W.A.S.P., L.A. Guns and Armored Saint. Bill's work has appeared in such metal magazines as Kerrang!, Enfer and Metal Mania.
Bill now lives in Hawaii and still works with rock and rollers.
(Biography courtesy Photography by Bill Hale & ECW Press)
All Time Low Show Has Fans Lost In Stereo
By Lucy Nguyen

All Time Low hit the Crocodile Rock Cafe for the fifth time in their career this past Saturday, July 18th. Despite the band name, the show was anything but an all time low. Sold out the night before, the small venue held a full house packed with over two thousand wild fans. Opening with "Lost in Stereo," a song from their newest album, "Nothing Personal," the audience immediately started cheering and screaming. Exceptional crowd participation remained relevant throughout the entire set, ranging from crowd sing-a-longs, crowd surfing, and even a small mosh pit. Many laughs made a memorable night as frontman Alex Gaskarth and guitarist Jack Barakat showed their witty, humorous personalities through back cracking, sexual hand motions, and acknowledgement of the various undergarments thrown on stage.

Photo-Lucy Nguyen (Broken Sound Photography)
The band mixed it up that night, playing several more new songs along with some
of the old fan favorites. They even slowed it down at one point with a part acoustic ballad, "Remembering Sunday." Other songs from their set included "Stella," "Damned If I Do Ya," and "Poppin Champagne."
Photo-Lucy Nguyen (Broken Sound Photography)
The eleven song setlist was not enough for the fans, though. Following their supposedly final song, the band not only left the stage, but left the crowd wanting more. Within seconds, repeated chants of "All Time Low" swept within the crowd. Answering their fans' cries, the band made yet one more appearance for a two song encore, finally ending the night with "Dear Maria."
Photo-Lucy Nguyen (Broken Sound Photography)
Endall - Jersey Rock At It's Finest
By Michael Meade
The title of this piece says almost everything about the New Jersey-based quartet, their songs mix hard rock and metal with groove driven rhythm you can dance or thrash to. Forming in 2007, it wasn't long before Gareth Shihadeh (lead guitar, vocals), Mike Vittoria (lead vocals), Charlie Marrot (bass, vocals), and Chris Shea (drums, vocals) started pumping out their signature sound and tearing up the New Jersey rock scene!

L-R Mike Vittoria, Gareth Shihadeh, Chris Shea, Charlie Marotta-Photo Janna Vittoria Courtesy Endall

This summer Endall is set to take the Tri-State area by force, embarking on their Never Die 2009 Tour. The tour's next stop is in Marshalls Creek Pennsylvania on Saturday August 15, playing NEPA Original Music's Originial Night hosted by Lippy's Extreme Sports Bar. Then a few days later, on August 22, they'll be back in PA at Crocodile Rock in Allentown.
In the meantime, Endall can be seen this Wednesday the 5th in Belmar, New Jersey at Bar Anticipation (Bar A). Sponsored by 95.9 The Rat, this show is Endall's chance to be an opener for Cruefest 2!

And this is all just the pre-game to the release of their new self-titled EP and their song "Inside Of Me" appearing on the Nikki Six autobiography An Education in Rebellion this fall. Keep your eyes peeled for more with Endall at TLR! later this month.
Until then, check Endall out at www.myspace.com/endallnj and preview their great tracks "Inside Of Me", this writer's choice track, "Never Die", and "Miles From Home".

In Memorium: Les Paul - Musician, Inventor, Innovator
By Michael Meade




Les Paul, born Lester William Polsfuss on June 9 1915, the guitar god and inventor who revolutionized music and helped create rock 'n' roll and lay the groundwork of what it would become. Paul, who developed the solid-body electric guitar and pioneered multitrack recording among many other innovations of the recording industry, died Thursday August 13 2009 of complications from pneumonia at the age of 94.
Paul's legacy to guitarists was his unique playing style, including licks, trills, chording sequences, fretting techniques and timing, which set him apart from his contemporaries. Inspiring many of the guitar virtuosos of the last three decades, and continuing to inspire the new generations of guitarists coming up in the here and now.

Born in Waukesha, Wisconsin to George and Evelyn Polsfuss. Their surname was first simplified by his mother to Polfuss, before taking the stage name of Les Paul. Also performing by the nickname "Red Hot Red". Paul first became interested in music at the age of eight with his first instrument, a harmonica. After an attempting to learn the banjo, he began to play the guitar. By 13, Paul was performing semi-professionally as a country-music guitarist. Paul played with Rube Tronson's Texas Cowboys at age 17, and soon after he dropped out of high school to join Wolverton's Radio Band in St. Louis, Missouri on KMOX.
During the 1930s, Paul worked in radio in Chicago, where he performed jazz music. His first two records were released in 1936. One was credited to Rhubarb Red, the hillbilly alter ego Paul adopted, and the other was as an accompanist for blues artist Georgia White.
Dissatisfied with the acoustic guitars that were sold in the mid-30s, Paul began experimenting with a few designs for an electric model. Famously, he created what was referred to as "The Log," which was nothing more than a length of common 4" x 4" lumber with a bridge, guitar neck, and pickup attached to it. For appearance sake, he attached the body of an Epiphone hollow-body guitar, sawn lengthwise with "The Log" in the middle. Thus solving his two main problems: feedback, as the acoustic body no longer resonated with the amplified sound, and sustain, as the energy of the strings did not dissipate in generating sound through the guitar body.

1938 saw Paul's move to New York as part of a trio that included Jim Atkins (older half-brother of Chet Atkins) and bassist/percussionist Ernie Newton. Landing a featured spot with Fred Waring's Pennsylvanians radio show. Paul then moved to Hollywood in 1943, forming a new trio. As a last-minute replacement for Oscar Moore, Paul played with Nat King Cole and other artists in the inaugural Jazz at the Philharmonic concert in Los Angeles on July 2, 1944. Also in 1944, Paul's trio appeared on Bing Crosby's radio show. Crosby went on to sponsor Paul's experimental recording sessions. The two recorded together several times, including the '45 number one hit, "It's Been A Long, Long Time." In addition to backing Crosby and artists like The Andrews Sisters, Paul's trio recorded albums of their own on the Decca label in the late 1940s.
In January 1948, Paul was injured in a near-fatal automobile accident in Oklahoma, shattering his right arm and elbow. Doctors diagnosed that there was no way for them to rebuild the elbow in a way that would regain movement, and that his arm would permanently remain in whatever position they placed it. Paul then instructed the surgeons to set his arm at an angle that would allow him to cradle and pick a guitar. It took a year and a half for him to recover.

Also in 1948, Capitol Records released a recording that had begun as an experiment in Paul's garage, "Lover (When You're Near Me)", featuring Paul playing eight different parts on electric guitar, some recorded at half-speed, hence "double-fast" during playback at normal speed for the master tape. "Brazil", similarly recorded, was used for the B-side. This was the first time that multi-tracking had been used laying down a recording. These recordings were made not with the industry standard magnetic tape, but with acetate disks. He would record a track on a disk, then record himself playing another part with the first. Building the multi-track recording with overlaid tracks, rather than with parallels as he did later on.
Evetually he would work with Ross Snyder in the design of the first 8 track recording deck, built for him by Ampex for his home studio.

Jack Mullin, an electronics engineer, had been assigned to a US Army Signals unit stationed in France in World War II. During a mission in Germany near the end of the war, Mullin acquired and shipped home a German Magnetophon (tape recorder) and 50 reels of I.G. Farben plastic recording tape. He rebuilt and developed the device back in the United States, intent on selling it to the movie industry, holding a series of demonstrations which quickly became the talk of the US audio industry. Mullin's second demonstration was witnessed by Murdo MacKenzie, the technical director for Bing Crosby's radio show.

Shortly thereafter, Crosby hired Mullin to record and produce his radio shows and master his studio recordings on tape, investing $50,000 in local electronics firm Ampex. Thanks to Crosby's backing, Mullin and Ampex were able to create the Ampex Model 200, the world's first commercially produced reel-to-reel audio tape recorder. Crosby gave Les Paul the second Model 200 to be produced and Les immediately saw the machine's potential both for effects, like echo, and eventually its suitability for his multitrack recording technique. Using this machine, Paul placed an additional playback head, located before the conventional Erase-Record-Playback heads. With this Paul was able to play along with a previously recorded track, both of which were mixed together on to a new track. This was a mono tape recorder, just one track across the entire width of quarter-inch tape, and so the recording was destructive in that the original recording was erased by being recorded over with the new recording.
These revolutionary recordings were done with his wife, Mary Ford, performing vocals. Hits for the couple included "How High the Moon", "Bye Bye Blues", "The World Is Waiting for The Sunrise", and "Vaya Con Dios". These songs featured Mary harmonizing with herself, giving the vocals a very novel sound. Years later, in a conversation with Maxene Andrews of The Andrews Sisters, Paul is quoted as saying that his inspiration for Mary's vocals came from his earlier work with the sisters.
Les Paul & Mary Ford - Stock Photo

Mary Ford singing & Les Paul playing his signature creation the Gibson Les Paul-Stock photo

Paul's need for multiple non-destructive tracks was obvious and his re-invention of the Ampex 200 inspired Ampex to develop two-track and three-track recorders. The new machines were the backbone of professional recording, radio and television studios through the 1950s and early 1960s. In 1954, Paul continued to develop on this technology and commissioned Ampex to build the first eight track tape recorder, at his own expense. The machine, not to be confused with "8-track" tapes of the 70's, took a total of three years to get working properly; Paul said that by the time it was functional his music was out of favor. And so he never had a hit record using it.
His design became known as "Sel-Sync", or Selective Synchronization, during which specially modified electronics could either record or playback from the Record Head, while not optimized for playback it was acceptable for the purposes of recording an "overdub" (OD) in sync with the original.

As did Bing Crosby, Paul and Ford also used the now-ubiquitous recording technique known as close miking, wherein the microphone is less than six inches from the singer's mouth. Producing a more intimate, less reverberant sound than is heard when a singer is farther from the microphone. When implemented using a cardioid-patterned microphone, this technique emphasizes low-frequency sounds in the voice due to a cardioid microphone's proximity effect, giving a more relaxed feel because the performer has no need to project his or her voice and so isn't working as hard. The result is a singing style which strongly divergent from un-amplified theater-style singing.

Les Paul's "The Log", built in 1939, was one of the first solid-body electric guitars. Gibson Guitar Corporation designed a guitar incorporating Paul's suggestions in the early fifties and presented it to him to try. Paul was impressed enough to sign a contract for what became the "Les Paul" model, originally available only in a "gold top" version, and agreed never to be seen playing in public, or to be photographed, with anything but a Gibson guitar.

'69 Gibson Les Paul Guitar - Stock Photo

This arrangement persisted until 1961, declining sales had prompted Gibson to change the design without Paul's knowledge; creating a much thinner, lighter, and more aggressive-looking instrument with two cutaway "horns" instead of one. Paul said the first time he saw the "new" Gibson Les Paul was in a music store window, and he disliked it.
Though the contract required him to pose with the guitar, Paul said it was not "his" instrument, promptly asking Gibson to remove his name from the new model's headstock. Others claimed that Paul ended his endorsement contract with Gibson during his divorce, to avoid his wife getting any of his endorsement money. Gibson then renamed the guitar the "Gibson SG", which stands for "Solid Guitar", and it also became one of the company's best sellers and later became famous in the hands of AC/DC guitarist Angus Young.
The original Gibson Les Paul guitar design regained it's substantial popularity when Eric Clapton began playing the instrument a few years later, although he also played an SG and an ES-335. Paul then resumed his relationship with Gibson, and endorsed the original Les Paul guitar from then on. His personal Gibson Les Pauls were modified by his own hands, always using his own self-wound pickups and customized switching on his guitars. To this day, the Gibson Les Paul, and it's various models are used all over the world, by novice and professional guitarists. Less expensive versions of the Les Paul guitar is also manufactured for Gibson's lower-priced Epiphone brand.
Les Paul was one of the greatest innovators of rock music, and the music industry as a whole, without his advances in both recording technology and guitar technique modern music would be a very different animal indeed. He will be missed by the many musicians he mentored and the countless many he inspired and will continue to inspire as he takes his place among those that have gone on to the Valhalla of Rock 'n' Roll.

Les Paul June 9, 1915 - August 13, 2009
Summer Inertia 2009
By Michael Meade
Wine, Women, and Song... or more accurately beer, women (in bikinis), and metal! This is the second year Terminal Inertia has organized and hosted the Summer Inertia Festival, this year held at the Quarry Beach Hideaway in Wind Gap, Pennsylvania. On top of all day live music, the event featured all-you-can-drink beer, BBQ food, volleyball, swimming, paddleboat rides, merch vendors, plenty of bikini-clad sunbathers, and even Ozzy Osbourne! Well actually it was Rebourne, the ultimate Ozzy tribute.
Beer O'Clock!
Summer Inertia's gates opened at 12pm on Saturday August 8 and the party was on! Drowning Sun started the day off right with their brand of of heavy metal, reving the crowd into an all out party; this reporter has never before had the pleasure of witnessing a mosh pit form before 4 in the afternoon. Halflip kept the festival's revelers in the mood with their hardcore metal/rap fusion, combining metal instrumentation with rap style style vocals.

Halflip

Halflip also had the difficulty of pulling people away from the food pavillion, their set was mid-afternoon, and the success of pulling it off.

Food Pavillion

Five7zero took the stage just in time to provide the soundtrack to volleyball games that picked up during the set break between Halflip and Five7zero. As the game heated up so did Five7zero's performance, mixing covers (ranging from Janis Joplin to The Beatles to the Rolling Stones and more) with original songs from their upcoming album.

Five7zero L-R: Mike Hoover, Tommy Messinger, Lashonia Hunter, and Joe Malsch


Next up, Terminal Inertia amped up the crowd into overdrive with their metallic fury, garnering the largest pack of moshers for the day with originals and covers.
Terminal Inertia drummer Jen Eitner and vocalist Brad Borger

Terminal Inertia guitarist Jeremy Loveland
Even coming complete with a beach-wide cheer for the Pantera cover they threw in near the end of their set.

Terminal Inertia bassist Mark Shoemaker

Ajar and Rebourne closed out a great day and a great festival, which we at TLR! have been assured by Jeremy (guitarist for Terminal Inertia and bassist fo Drowning Sun) that next year's Summer Inertia Festival is already being planned. So if you missed this one, make sure you're first in line next year!
Terminal Inertia is Jen Eitner (drums), Jeremy Loveland (guitar and vocals), Brad Borger (vocals), and Mark Shoemaker (bass); check Terminal Inertia out at www.terminalinertiametal.com and www.myspace.com/terminalinertia.
Drowning Sun is Scott Morgan (guitar), Jeremy Loveland (bass), Brad Borger (drums), Bryan Killcommons (guitar), and Seth (vocals); check them out at www.myspace.com/drowningsun.
Halflip is Mozez Flowz (vocals), Steve Denig (vocals), Dan "Vito" Barone (guitar and vocals), Ben Wine (guitars), Chris "Mo" Eliat (bass), and Curt Morris (drums); find them at halflip.com and www.myspace.com/halflip151.
Five7zero is Lashonia Hunter (vocals), Joe Malsch (bass and vocals), Mike Hoover (guitar and vocals), and Tommy Messinger (drums); look them up at www.myspace.com/five7zero.
Ajar is Andres (vocals), Geoff (bass), Zhach (drums), and Winston (guitar); see them at www.myspace.com/ajarrocks.
Rebourne is Tim Allen as Ozzy, check him out at www.myspace.com/rebourneozzy.
Ear Ecstasy Delivers Ear Orgasm
By Michael Meade
The title of this piece might be a stretch to some, but it is a definate certainty that Ear Ecstasy delivers some great alternative/indie style tunes.The Stroudsburg Pennsylvania-based quartet of Ben Gorski, Dan Deluca, Adam Lycomirski, and Kevin Littleton focus their music on the positive, staying positive through the hard times, and loving life.
Every experience for these guys is a chance for something new, a reason to live to the fullest, and to show others, with their music, the ecstasy this world can offer and that they can live in the same frame of mind propelling life to new heights on a personal as well as global level. Regardless if Ear Ecstasy broke up tomorrow, they are a success because their music does just that.
With history going back to the beginning of this decade, when the members still in their early teens, Ear Ecstasy has a true gaunlet of life experiences to draw on, both as a group and individually, to illustrate finding fulfillment even in the darkest moments of emotional and physical despair and apathy. The four members definately have unbreakable wills to thrive.
In the past months Ear Ecstasy has played several private parties and benefit shows for the Rimrock Masonic Center, Monroe County PA diabetes, and Henry's Ghost in Henryville Pennsylvania.
Once again Ear Ecstasy is Ben (lead vocals, guitar, keyboard, songwriter/lyricist), Dan (guitar, back up vocals, songwriter), Adam (drums, songwriter), and Kevin (bass, songwriter). Check them out at www.myspace.com/earecstasy for their full bio, songs, and more.
Be on the look out for more with Ear Ecstasy here at TLR!
Act Now to Keep It Live in Pennsylvania!
New state sales tax on arts threatens Pennsylvania tour sites
Pennsylvania wants to charge sales tax on tickets for all live performances in theaters, concert halls and auditoriums statewide. The new tax, called the "Arts Tax," has promoters and top performing acts ready to drop Pennsylvania cities from their tours in favor of other states that don't impose a tax penalty for live performances.

Make no mistake: this proposed tax, which adds 6% to ticket prices statewide (8% in Philly and 7% in Pittsburgh), is a killer for live shows all over the state.

Top performers will choose not to come here, and when that happens, everybody loses - especially loyal fans like you. The politicians are set to act on the Arts Tax THIS WEEK because they think there is no oppisition to the tax. Without your help, the tax will become law. So please, Act Now to stop the Arts Tax.
Send an email to the politicians listed below:
jscarnati@pasen.gov; dpileggi@pasen.gov; jcorman@pasen.gov; kmccall@pahouse.net; teachus@pahouse.net; devans@hacd.net; mellow@pasenate.com; costa@pasenate.com; mkeller@pahousegop.com; lfarnese@pasenate.com; kitchen@pasenate.com; jwilliam@pahouse.net; dwhite@pasen.gov; dreed@pahousegop.com; pbrowne@pasen.gov; ferlo@pasenate.com; dlevdans@pahouse.net; jearll@pasen.gov; Fontana@pasenate.com; tkirklan@pahouse.net; parep160@aol.com; jwheatley@pahouse.net; fontana2@pasenate.com

Subject:
Kill the Arts Tax

Copy and paste the following text into the new email:
I buy tickets to live performances in Pennsylvania, and I strongly oppose the Arts Tax because it will cause top performing acts to eliminate Pennsylvania tour sites. I urge you to oppose the Arts Tax, which would add state sales tax to all ticket prices for live performance concerts and shows statewide. Keep It Live in Pennsylvania! Kill the Arts Tax instead!
Reprinted from Live Nation - livenation.com