Stingers in San Bernardino Buzzed
By Melissa Anderson
Posted 1/14/11 3:30PM EST

Saturday January 8th Stingers in San Bernardino hosted a 6 band concert featuring a bomb line up: Osology, Assuming We Survive, Fall Into Mourning, Hyla Brook, and national act headliner's Divide the Day and the Black Cloud Collective.
The entertainment did not end there. Sullen clothing line model Miss Murder MC'd the event. Comedian Don Hefty also graced the stage with pee your pants, gut busting funny.
Brandon Saller (Atreyu) with his side project Black Cloud Collective - Photo Rockwell Anderson Media
The show was promoted by BellaKay Productions. What does that mean for you as a fan? In short you will leave the concert knowing that you got the best bang for your buck. It is not often that a concert goer gets to experience 6 bands at one show including 2 national acts. All of this for a smidge of the cost of a single act show.

This means for the bands they get a chance to be at a venue that is intimate enough for them to mingle with their fans. Brandon Saller of Black Cloud Collective and Atreyu mentioned that this gig was great. He was impressed with the stage setup and the size of the venue. Other performers that night raved about the sound at the show.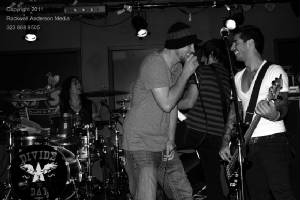 Divide The Day with guest singer Steve Wilson of Fall Into Mourning - Photo: Rockwell Anderson Media
This show came at a special time for Divide the Day. They were able to let their fans know their song " Let it Roll" is being played at the Super Bowl (before commercial breaks) this year . The fans excitement was only surpassed by Divide the Days sharing of the news.

Support for shows like this is what makes it possible for such a great night to happen. To show your love and be supportive and if you are a fan of one of the local bands playing, get tickets from them. The bands not only get to rock out for their fans but they have the opportunity to play with national acts, sometimes this means that they get to perform with bands that have influenced them and that they follow. It is a win, win for all parties involved.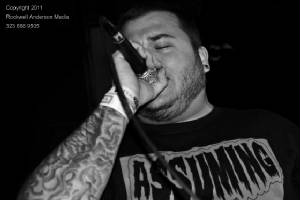 Hyla Brook - Photo: Rockwell Anderson Media
Keep your eyes peeled for up and coming events from BellaKay Productions. With your support shows like Stingers will be offered more frequently. Not only that the price is right and big name bands are coming to the IE. When you come to a show put together by Steve Wilson CEO of BellaKay Productions and lead vocals of Fall Into Mourning you're not just getting a concert you are getting an experience.
Fall Into Mourning Shoots "Dusty Road" Music Video
By Melissa Anderson
Posted 1/21/11 5:30PM EST
What happens when you team up a brilliant kick-ass pull at your hear strings rock song with a music, art, and fashion non-profit? You get the new Dusty Road music video from Fall Into Mourning which tells the story of Michelle Renee, and Rock to Stop Violence.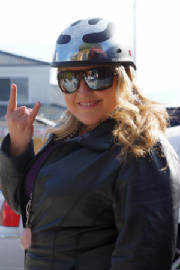 Michelle Renee - Photo: Rockwell Anderson Media
In November of 2000, Michelle Renee and her daughter were kidnapped, held hostage, and Michelle was forced to rob the bank she worked at. If she did not, then her and her daughter would not be here to tell their story today. All of this came after Michelle's violent childhood. Michelle had a choice; she could either be a victim the rest of her life or she could move on and heal. The fighter that she is left her with no choice; she moved on and is in healing with her daughter. Out of her tragedy came the non-profit Rock to Stop Violence. It is this organization that uses rock and roll music, art, and fashion to heal and spread her message of non-violence.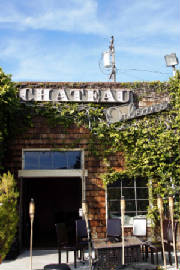 Chateau Orleans, Pacific Beach CA owned by George Harrion's Great Nephew, video site-Photo: Anderson
Ten years after the episode Michelle has decided to tell her story through a music video. When she heard "Dusty Road", an original song written by Steve Wilson, lead vocals of Fall Into Mourning, she had an immediate connection. Michelle fell in love with the song and her and Steve put her concept to his lyrics and the rest is soon to be music history.

The video features Michelle, her daughter, and Steve to tell the story of the crime, and most importantly the healing process that her and her daughter have gone through the past 10 years. The music video will be premièred at an upcoming Fall Into Mourning concert in Los Angeles or Las Vegas. The music video will also be used by Rock to Stop Violence as an awareness tool.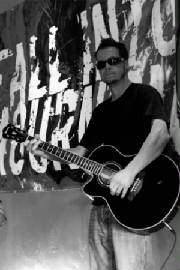 Alex Whiting, lead guitarist of Fall Into Mourning - Photo: Rockwell Anderson Media
One unique aspect of this process is that it is being filmed and still photographed and shared with the world via FaceBook. Michelle and Steve chose Rockwell Anderson Media to do the project. Rockwell Anderson shot Fall Into Mourning's first music video "Angel" and the style that they film in was what this project needed. Stay tuned for the music video premiere details and event.
Less Than Jake Smashes The Sherman To Life
By Lacey Bowden
Posted 1/26/11 10:20PM EST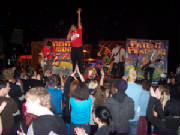 Patent Pending - Photo: Michael Meade
Put together Less Than Jake, Patent Pending, Off With Their Heads, and Supervillains in a small venue in a small town and what do you get?... One awesome evening with the crowd growing every minute. And Tastes Like Rock was there to cover it all. Patent Pending started off with an energizing set to wake everyone up. Joe (lead vocals) gave uplifting words to those who needed them. He spoke out against suicide and invited anyone to contact the band if they needed someone to speak with.



Next up was Off With Their Heads bringing that good old ska and reggae to the stage with their Minneapolis twist. They rocked out during their half hour block as more people trickled in. The atmosphere was getting clouded with the smell of alcohol, sweat, and other assorted scents best not mentioned.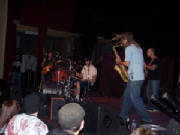 Supervillains - Photo: Michael Meade
After another smooth transition Supervillains, the last opening act, came out to make way for Less Than Jake. They rocked out to songs that spoke about drugs, alcohol, and other punk scene subjects. Their sound was smooth and the saxophone was well played. They also encouraged the small mosh pit to grow larger, and the group listened.
Less Than Jake's Chris Demakes - Photo: Michael Meade
And finally… the main event. Less Than Jake got onstage and the crowd went wild. They played songs off of their last album TV/EP. Even including a remix of the theme song from SpongeBob Squarepants for a lucky birthday boy who danced for a t-shirt and CD as a gift from Less Than Jake for his 10th birthday.





LTJ's Peter Wasilewski (sax) & Buddy Schaub (trombone) - Photo: Meade
There were multiple stage dives and quite a few people crowd surfing. Chris even started a conversation with the audience discussing which bar he and the band should party at after the show. They had the entire venue jumping up and down to the beat. I have to say, Less Than Jake does know how to put on a show. Their interactivity with the swarm of fans was well played out and they entertained everyone there.







Divide the Day's Super Future & Raucous Past
By Melissa Anderson
Posted 1/31/11 11:30PM EST

Billy Haig, bass player and founding member of Divide the Day, recently took time out to sit down with me and talk about what it is like to be a rock band signed to a major label.

Divide the Day has played thousands of shows, toured with countless bands, and their song "Let It Roll" is used as one of the theme songs for the WWE. Their new big news for the start of 2011 involves the biggest sports spectacle in the world. "Let It Roll" will be played in the stadium at the 2011 Super Bowl. Billy was open and honest on the struggles and the triumphs that he has experienced, both before being signed and after. He shared this and a whole lot more of how he started playing music, and what life as a rock star is like in our interview.
Photo: Rockwell Anderson Media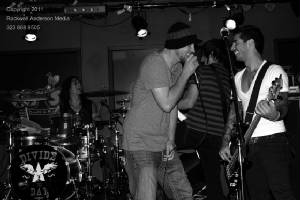 Steve Wilson of Fall Into Mourning provides guest vocals for Divide the Day's hit "One Night Stand"
"Being on a record label sounds great and exciting but it can suck the life out of you musically. The plus side is exposure and more respect from people, and getting your songs on the radio." Billy also went on to say that they had the choice of record label deals and neither was that good of a deal, but they really wanted to get signed. "I would tell bands to focus on legitimate management, a good booking agent, and focus on publishing. Once a song gets out there that you have written that is when the money comes in. I would also tell bands to look at Indy Labels. We used to be part of Pluto records and they looked out for us. It was more personal."
Photo: Rockwell Anderson Media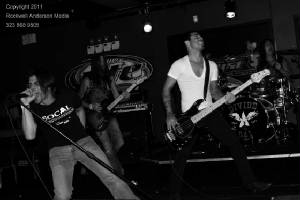 Dave Strickland of Idasas provided guest vocals for 2 Divide the Day songs
Billy not only had advice on what it was like to get signed and his views on it, he also shared with us what life on the road is like. "Your practice is the shows. You're out there playing every night." I asked him if any tour stuck out in his memory. He went on to tell me about how the band signed their record label deal at South By Southwest. "Everywhere we went it was a party, everybody new we just got signed and people were congratulating us."

I asked Billy what coming home after a tour is like? "For me it is sitting on the couch, turning on the tv, not going out or drinking for a couple of weeks." That is how Billy re-acclimates to a regular life. "I don't talk to the guys for a few weeks either. We have just been on the road together everyday and every night."

Divide the Day has been a band since early 2001. In that time it has went through a number of lineup changes, at least 5 drummers and at least 8-9 guitarists." I remember a time when it was just me and Joe the lead singer. It was that way for about 6 months." However, the current lineup has been the same for the last 3 years and the band has been signed for 2 years

I was curious what venues Billy liked the best. "The small dive bars that hold 50 to 100 people are awesome. The fans are in your face and spilling beer on you. Some people might think that is annoying but I love it. But on the other hand there is nothing like being in a huge stadium with thousands of fans singing your songs. What I don't like about the big venues is that the audience is so far back you can feel a bit disconnected at times. I just get up there and smile. Some people love it and others tell me that I am in a rock band and I should not smile. But I love what I do. Rock and Roll. I can get up there have fun and shake my ass; that is what rock and roll is to me."

To all up and coming bands, Billy's advice is to build a strong fan base, practice and enjoy it. "When you are on the road for months at a time that is your practice." He also points out that when you are not touring that practice is important, as well as writing new songs and recording.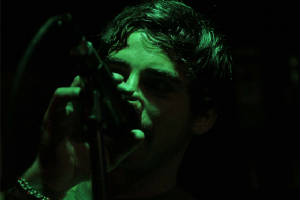 Billy Haig of Divide the Day - Photo: Rockwell Anderson Media
The story of how Haig started his bass career is in his words "totally ridiculous". "I was in class and there was a girl sitting behind me that I had a crush on. My other friend was talking to me about being in a band so I said "…yeah I play bass." He said "great - lets jam sometime." "The truth - I had never played bass and I had only played my brothers guitar twice. One day the guy said come and jam with me and my band I said I can't - I don't have my bass here. He said he had one. It was the first time I had seen one (a bass guitar). I put it in my hand and tried to play. The guitarist in the band wanted to know why I was at practice 'cause I sucked, but the drummer, who was my friend, told the guys to teach me. So the guitarist taught me Stairway to Heaven - but he only taught me the last part and said that there was no bass in the song after that. That is how I started bass."

As for influences in his personal life went, Billy credited his mom and his brother. "My mom would sing and play the piano. She was talented but I didn't really think about it because it was something she would just do. I got my influence from my brother, he would pick up the guitar. I know he got it from my mom - he was older than me."

When asked about advice to up and coming bands about wanting to get signed by a major record label Billy stated "It isn't what you think it is. You have to work twice as hard once you get signed. A lot of time people fail because they think it comes easy once you are signed." Along with sharing this with new bands out there trying to make it, Haig had a few words to say about the music business over the last 10 years. Where it was and where it is going. "I have seen the birth of MySpace, the death of MySpace. On the one hand it gets your band noticed but with all the free downloads and people buying tapes and cd's less at the end of the day, it hurts small bands. They should lower the cost of cd's. With auto tune the business is less about talent. I am sort of scared of where the industry is headed. What we need is another great band like the Beatles, Guns and Roses, Kiss (some people may disagree with me on that one). I think there are too many bands out there for this to happen."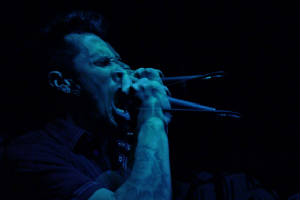 Joe, lead singer for Divide the Day, wasn't able to make a recent show due to illness.
Billy had a bit of advice for the Inland Empire in California. "It lacks a good venue. There is no place like Showcase Theater. I wish we had something like that again." What Billy likes about the Inland Empire music scene is that all the bands get along and look out for each other. Divide the Day proved this when they performed at Stingers on January 8th and there singer had to cancel right before the show. "I didn't know what to do but I was not going to cancel on Steve (show promoter and lead vocals for Fall Into Mourning) or our fans. That is when I asked Steve to step in and sing - he knew the words. I also asked Dave of IDASAS to step in. My nephew was there and he knew the songs." By the end of the show the fans were on stage with the band rocking out. It was a shortened set but it left the fans with an experience. They got to rock out with Divide the Day.

In the end it is all about the music. "Keep jamming and having fun!" Perhaps Billy's best advice.
Divide the Day Rock Star Karaoke 2011 from Rockwell Anderson on Vimeo.
Rehab show at Stinger's features East Coast, West Coast, & Southern Talent
By Melissa Anderson
Posted 2/10/11 4:45PM EST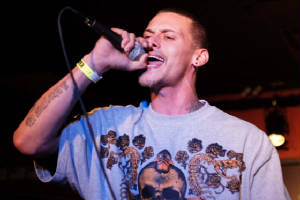 J-Riva of Osology - Photo: Rockwell Anderson Media
When you have Osology and Lost Souls representing the IE & SoCal (L.A.) music scene combined with Brian Desind shouting out the East Coast, plus Rehab in the house giving the South its props, you have an off the hook line up. Stinger's once again was the place to be for a night to remember. Despite the downpour Sunday January 30th the show went on. Die hard fans were out in force to see their bands and get a taste of something new.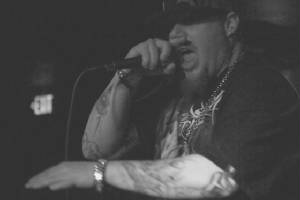 Lost Souls - Photo: Rockwell Anderson Media
If you are from the IE you have no doubt heard of Osology and Lost Souls. Both rap bands are masters at engaging the crowd. Osology lets it be known they represent the IE music scene. They are energetic, tight, and put on a professional performance. I have seen them more than once and I have never been disappointed with a show. They keep getting better and better.
Andy Magruder AKA Bass of Lost Souls - Photo: Rockwell Anderson Media
Lost Souls, another SoCal rap "band", were equally engaging. With abundant energy and focus, they have a powerful, fluent sound. Lost Souls lyrics are hard and heartfelt at the same time. One of their songs was about a soldier and suicide. The lyrics were so touching that a veteran of the armed force in the crowd was seen crying. She had lost someone close to her that was in the military. That person had taken his own life after coming home from war.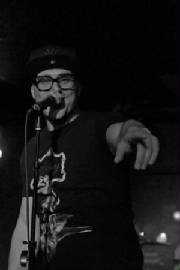 BD (Brian Desind) - Photo: Rockwell Anderson Media
One surprise of the night was Brian Desind (BD) from New York, representing the East Coast. He was not what I expected. He performed with his drummer and mixed music samples. Tall in stature and strong in voice, he was overwhelmingly amazing. His lyrics were smart, and tight. Think you might be bored watching just one guy and a drummer? You did not see the theatrics of Brian. His moves were as rhythmic as his sound. An added bonus, in my opinion, was his rendition of the song "People are Strange" by the Doors. Being a huge Doors fan myself, I was impressed by his take on the classic.
Rehab was the final act of the night and the show headliner. Hailing from Atlanta, GA, they represented the Southern U.S. With an aggressive and soulful presence, they performed a crowd-pleasing set. The audience was given a worthwhile experience from Rehab. This show at Stinger's marked the last of their California tour dates with a stop in Utah next before heading to the Midwest.

Stinger's, in cooperation with promoter Steve Wilson of BellaKay Productions, made this show possible. Not only did they provide fans a chance to see a West Coast, East Coast, & Southern extravaganza, they also thanked our Soldiers. Anyone with a military ID was given free admission. To make shows like this possible and to be able to allow cheap or free tickets to our soldiers, it is important to support local music and the independent venue's that host not only National acts, but also give you a show with local musicians.



Blast The Roof Off!
By Lacey Bowden
Posted 2/16/11 7:30PM EST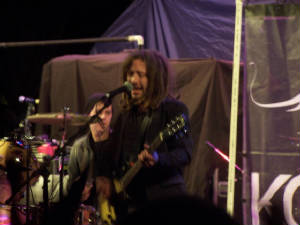 Kopek's Daniel Jordan - Photo: Lacey Bowden
Scene: The Sherman. Players: Kopek, My Darkest Days, Saving Abel, and Hinder. Audience: From all over the area. Volume Level: Off the Charts.
All the way from Ireland to open for the show, Kopek broke the silence with their alternative rock. Happy to report that Dan (the lead singer) was pleasant to talk to. Sources had mixed feelings on them but most who we talked to had enjoyed the new sound. The crowd had already started getting hot and heavy by the time they finished their set.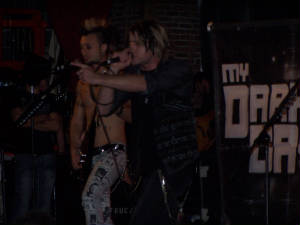 L-R Sal Costa and Matt Walst of My Darkest Days - Photo: Lacey Bowden
When My Darkest Days came out everyone started getting wild. The band even started with the "titty-cam" right before they played their hit Porn Star Dancing. The crowd swelled in size and rocked out with them as they sang their hearts out. It was amazing as the singer started shouting to the crowd to raise their voices so they could blow the roof off. They even got a present of a bra which Sal put on the mic as he sang.
L-R Jared Weeks, Eric Taylor, & Scott Bartlett - Photo: Michael Meade
At last it was time for Saving Abel who came out with their Mississippi-born band and got the crowd fired up. They even stopped in the middle of the set to dedicate a song to the troops stationed out of the country. They reminded everyone that songs about sex were the biggest hits that night when they whipped out "Addicted". Not surprising that everyone sang along with them. Then they pumped everyone up for the big finale…
Hinder came out surrounded by red lights and a raised drum stand with huge fencing on both sides. More light show and overacting than actual good rock, but at least we had the opening bands. Winkler's singing was overdone and he talked through half the set. The lights were more entertaining. The band performed their newest songs ("All American Nightmare", "Loaded and Alone") and some of their older hits.

All in all I think it was the opening bands that made the night amazing. The sound system was definitely blasting and the crowd was pleased. All the bands were good with handling their fans. Except for the ones that got dragged out for having the lack of brains for not smoking in the building. Seriously, hasn't it been long enough for everyone to have gotten the memo about no more cigarettes inside?